Polypropylene is a highly versatile thermoplastic used across several manufacturing sectors. It is a semi-rigid, translucent material with excellent chemical and heat resistance. It is especially useful for making moving plastic parts, such as living hinges, as it is tough enough to withstand repeated bending and can stand up to wear and fatigue. Polypropylene sheets can be cut to size or custom shaped for optimum versatility and convenience. It also makes an ideal material for plastic injection moulding methods, since it is easy to use and costs very little to produce.
Polypropylene in different manufacturing sectors :
Polypropylene sheets have a high melting point of around 130 degrees C, which makes them a useful material for many different heat-resistant applications across multiple sectors. It is lightweight, impervious to water, resilient to sunlight and will not be damaged by bacteria or mould.
All of this enables polypropylene sheets to be used outdoors with less risk of degrading in direct sunlight or being damaged by heavy rain. Polypropylene is also colour fast, meaning that it can be customised to match company branding and other colour schemes. It is also resistant to most oils and solvents.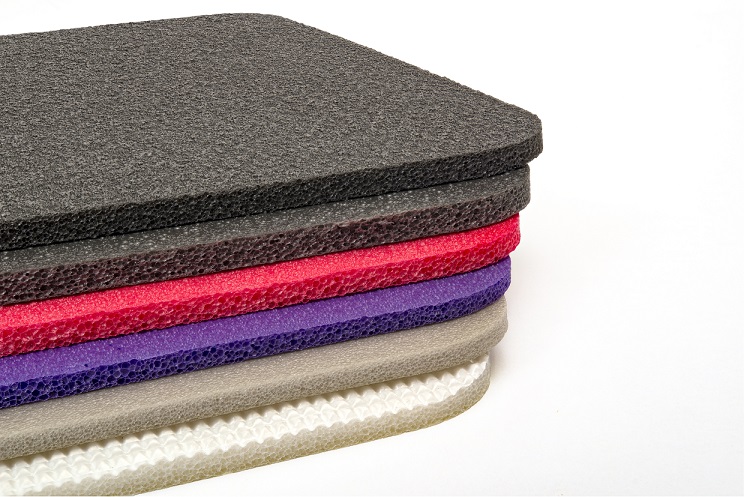 Here are just a few manufacturing sectors that make good use of polypropylene sheets.
Packaging
Polypropylene sheets can be rigid or flexible, opening up a wider range of options for hygienic, tailor-made packaging. Packaging crosses many sectors, from food and beverage to medical; textiles to toys. At its most flexible, polypropylene can be a viable alternative to cellophane, foils or paper and is used to package food, tobacco products and clothes. In its rigid form, it is a highly effective material for bottle caps (hinged and otherwise), crate and pallet clips, detergent container caps, toiletries and disposable drinks bottles.
Fashion and Textiles
The robust nature of polypropylene sheets makes them perfect to include in clothing, bags and materials that will need to withstand regular use, wear and washing. As it is resistant to water, sunlight, bacteria and mould, it is ideal for sports and outdoor wear, such as base layers, waterproof jackets, shoes and protective pads. Polypropylene is also commonly found in bags – sports bags, totes, rucksacks, duffle bags and more. It is even finding its way more and more into jewellery, hair accessories and other fashion items, thanks to its versatility, ability to hold colour and hypoallergenic properties.
Medical and Healthcare
Since polypropylene sheets are hypoallergenic, bacteria-resistant and waterproof, they make the perfect material for several medical applications. This is also because plastic is considered to be medical grade and can be used for hinges and moving parts. Medical and healthcare items made from polypropylene include implantable devices, hernia repair kits, storage vials and caps, surgical trays and caddies. Due to being a thermoplastic material, polypropylene is also recyclable, which helps to reduce waste and lower medical organisations' carbon footprints.
Household Items
Polypropylene sheets are also found in many common household items and children's toys. Furniture such as plastic garden tables and chairs and sofa upholstery can contain the material, as can storage trays, carpets and rugs, kitchen utensils, picnic sets and storage containers. Additionally, household items can come in polypropylene packaging, as well as be made from versatile materials. Internal components of microwaves, dishwashers, vacuum cleaners and pressure cookers can also be made from plastic injection moulded polypropylene sheets.
Automotive
Cars, vans and other vehicles contain a lot of polypropylene elements, including dashboards, bumpers, cladding, exterior trim pieces, upholstery and more. It can even be used on panels to replace paint, due to its excellent colour fastness and ability to withstand water, oils and solvent and wear and tear. Automotive injection moulded products are also excellent for insulating and protecting electric components, due to its high resistance to electricity.
Promotional Materials
Colours and print can adhere extremely well to polypropylene sheets, making them an excellent option for advertising signs, point of sale materials, corporate signage and other marketing materials that need to withstand outdoor conditions or regular wear and tear. The printed finish looks attractive and the colours stay bright and eye-catching.
Polypropylene sheets are also relatively inexpensive when compared to other plastics, metals etc. So, they will take up less of the marketing budget as a result. As polypropylene can be melted down multiple times, this makes it easily recyclable and therefore a popular eco-friendly choice for time-limited promotional materials.