Plastic injection moulding is a common sight across many diverse sectors in the UK and beyond. The retail sector is no exception. This is a world where commerce moves at a rapid pace. Products must be designed, manufactured and brought to market as quickly as possible so that they can start to be sold to turn profits. In addition, they must be safe, reliable, hygienic and fit for purpose.
Being able to rely on the effective, efficient processes involved in plastic injection moulding is an attractive proposition for many companies within the retail sector. Other advantages include the ability to customise products, as well as to produce them in very high volume for sale. Or as smaller, bespoke projects for samples, prototypes and smaller volumes of retail equipment, such as POS (point of sale) machines, payment devices and signage.
Here are five key areas where the retail sector relies upon plastic injection moulding for the products and equipment it needs to thrive.
Packaging
In a world where sustainable packaging is becoming more and more important to consumers and retailers alike, plastic injection moulded products continue to experience high demand. This is largely due to their resilience, hygienic properties, ease of customisation and flexibility as to design, shape and size. The good news is that many injection moulded plastics can be recycled and/or reused to help reduce the impact of the carbon footprint created by their production. Some plastics can be melted down into liquid form again and reused to create a brand new plastic injection moulding carton, bottle, tray or tub.
3D printing: personalisation and prototypes
As 3D printing becomes increasingly sophisticated, its use to create bespoke retail orders and items is growing in popularity. Some examples include making toys and games that are personal to the child receiving them, such as customised plastic bricks, dolls, toy garages or figures. Other retail sector projects involving components manufactured by 3D printing methods include trade fairs aimed at the retail market, where promotional items are often given away. Additionally, new forms of packaging or prototypes of products that are new to market are often trialled in smaller run sizes. This would therefore make them eminently suitable for 3D printing in smaller batches for the period of time when customer reaction is being tested out.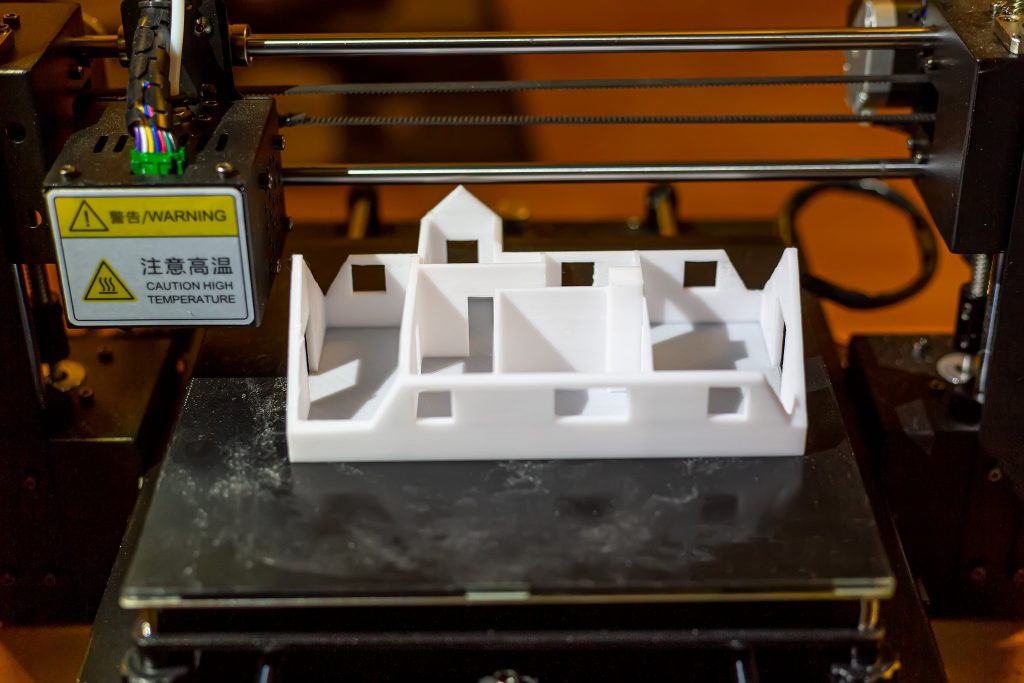 Advertising and promotional materials
The retail sector also depends heavily on advertising, marketing and promotional materials to spread the word about products and encourage customers to spend money. While much of this has moved online, there remains a need for physical materials to raise awareness and promote special deals, new products and sales seasons. These materials must be robust enough to withstand heavy usage, inclement weather and frequent moving about and handling. Thus, plastic injection moulding is the ideal production process for this type of project. For example, signs for cash registers, market stalls, advertising hoardings etc can be made from plastic for greater longevity than paper or cardboard. Carrier bags carrying logos and promotional messages are also often made from plastic, as are other promotional items like key fobs, pens, reusable hot drinks cups and more.
Furnishings and fittings
Plastic injection moulding tends to produce robust, durable products that can withstand repeated and heavy use. This makes the process an excellent fit for making furnishings and fittings for shops, market stalls and other retail outlets. Some examples could include shelving, clothes rails, plastic screens and barriers, POS materials, plastic utensils, cups and plates, clothes hangers, shopping baskets, pallets and warehousing components. Plastic can be wiped clean quickly and easily and customised in different colours, shapes and sizes for precise matching to existing premises, corporate branding guidelines and general requirements.
Waste disposal
The retail sector generates a high level of waste products, including packaging, offcuts from manufacturing, spoiled goods and more. Having access to strong, reliable, leak proof plastic containers, bags, bins and boxes to store and transfer waste is therefore essential. Many retailers are keen to recycle as many of their waste products as possible in a bid to operate more sustainably. Plastic injection moulded bins and tubs etc. are equally useful for this purpose as they can be made to fit any required dimensions and can contain items intended for recycling safely and hygienically for as long as they are required to.